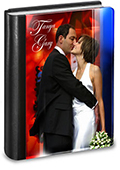 Lifestyle Images try that little bit harder to make your big day an unforgettable experience...
For 2012 - 2013 we're offering all our couples a free Lifestyle Wedding Album or pre-wedding photo-shoot complete with a stunning, framed gallery quality studio portrait !

The gallery size portrait is prepared with a large white border and placed on the gift table at your reception.
Guests are invited to sign congratulatory messages around the border to create a priceless memento you'll no doubt treasure forever !
Our Wedding Album holds approximately 150 photos artistically laid out across 50 pages, perfectly presented with a stunning personalised wrap around glossy cover.