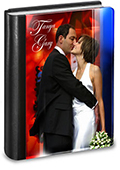 Our wedding photographer will capture the kaleidoscope of emotions and expressions during your special day, in meticulous detail, as it unfolds.
Using an unobtrusive approach we will create a unique story book perspective of events using a blend of colour and monochrome images in true contemporary reportage style.
Your big day will initially be published for your eyes only, on our website in just a few days, so you can rewind those precious moments while you are still on your honeymoon!
After vetting your photos you may then choose to extend an invitation for viewing to your family and friends.

In the following weeks we will work with you to create a stunning portfolio of photos using state of the art presentation products from the top Italian, US and UK album designers. more